If you've ever been tempted to use a point-and-click legal form or other non-lawyer service offered online by numerous websites, you're not alone. According to the U.S. Bureau of Economic Statistics, in 2012 U.S. households spent over $8 billion on legal services, a 33% increase from 2005. For some consumers, online forms and other legal services appear to offer inexpensive alternatives to hiring an attorney for what they consider are "simple" legal matters, such as wills and contracts. However, there can be unforeseen dangers and hidden costs to utilizing online forms and non-lawyer legal services for personal or business matters.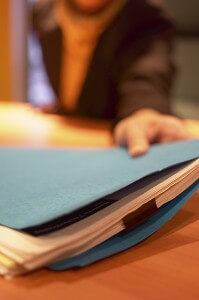 While online forms and legal services websites might appear to be easy to use and relatively inexpensive, they can actually end up costing much more than hiring an attorney to perform the same tasks. This is true mainly because there is no such thing as a standard, "one size fits all" contract, will or legal matter, nor is there any substitute for personal legal advice following a direct consultation with a licensed attorney experienced in the relevant law in your state. Just as no two people are exactly alike (except perhaps identical twins), every legal situation is unique and must be carefully analyzed to determine the proper approach and needed solution.
Not only are lawyers knowledgeable in the laws of the state(s) where they are licensed, but they are also professionally trained to gather and sift through facts and identify important legal issues that should be addressed under the circumstances. With standardized forms (even ones purporting to be "valid" in particular states), there is a greater chance that relevant details will be missed and that the form selected and filled out by a consumer will either fail to adequately cover important legal issues or will not comply with applicable state law, or worse, both.
Unfortunately, as more consumers look to online forms and services instead of obtaining personal legal advice for their particular situation, many will find themselves dealing with the unintended cleanup efforts that can result. The story of Ann Aldrich illustrates the serious consequences that can arise when using online forms to create important legal documents such as wills or contracts. In Ms. Aldrich's case, she created a last will using a form provided by online provider E-Z Legal Forms. Unfortunately, the form did not contain the necessary language to carry out Ms. Aldrich's intent, which was to leave her entire estate to her sister first and then to Ms. Aldrich's brother if her sister died before she did. The Florida Supreme Court ruled in favor of two nieces who challenged the will, holding they were entitled to receive bank accounts that were not specifically listed in the will. Not only were Ms. Aldrich's true wishes not carried out, but unnecessary and costly litigation resulted from the defective will.
If something is worth doing – such as memorializing a business deal with a well-written contract or leaving clear instructions on passing your worldly belongings to your heirs – it is worth doing correctly. Taking shortcuts in important legal matters often leads to headaches and heartache as families, business partners and courts are left to figure out what actually was intended.
The Atlanta business litigation and counsel lawyers of Brownstein and Nguyen offer years of experience and legal expertise in business representation. No matter the legal issue, our lawyers will meet with you to discuss your particular situation, review your documents and offer advice on the legal issues presented, and prepare the necessary legal documents to proactively protect your business interests and anticipate potential future issues. If a dispute arises, our attorneys can effectively and efficiently represent your interests in court. Contact us today for assistance with your legal business needs.