Joseph Andrey whispered his wish, "I want to go home, to my books and my music," to his daughter and power of attorney Maureen Stefanides. Caught in a never-ending cycle, his wish to live and die peacefully at home was seemingly disregarded by a for-profit system that is understaffed, too rigid, and unsympathetic to last wishes. As much as Ms. Stefanides fought to honor her father's wishes to go home, she was was never able to free him from the constant carousel of trips to the hospital followed by discharges to nursing homes and rehabilitation facilities.
These trips to the hospital and stays in nursing homes exposed Mr. Andrey to healthcare-associated infections and poor care, causing his health to further decline. With the infections and worsening medical condition, he was less qualified to recieve the home care that his daughter so desperately sought for him. So, Mr. Audrey continued on the circular journey from hospital to nursing home and back to the hospital again.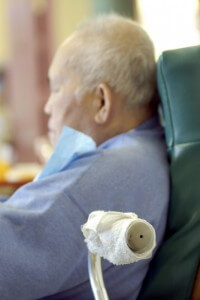 The case of Joseph Andrey is not entirely unique. The elder care and abuse attorneys at Brownstein & Nguyen have represented and advised clients dealing with end-of-life care issues such as those faced by Mr. Andrey and his daughter. The firm has helped those fighting the system to allow elderly loved ones to die in the peace of their own homes – the last bit of dignity and humanity they can be granted.
How can a system recognize and fulfill the individual needs of aging patients if facilities are over-run, understaffed, and ultimately motivated by profits? When it comes to end of life care, sometimes hurdles are in place that don't seem to make sense. In Mr. Audrey's case, he was allowed to return home twice but each time the home health agency responsible for his care terminated services, deciding his case was too costly and frequent hospital stays deprived caregivers of steady income. A merry-go-round of profit-driven nursing homes that only paid the highest reimbursements for the first 100 days after admission were the only alternative.
As life expectancy rates increase and quality of life challenges are faced with certainty by so many, how will your family deal with end of life issues like those Joseph Audrey and his daughter faced? At Brownstein & Nguyen, we do not claim to have all of the answers to the heartbreaking sagas that unfold for so many families. But we do take the time to listen and understand each individual situation, and if possible help fight for the healthcare rights and dignity of elder patients – including those nearing their end. If you are caught in a healthcare system trap, feeling powerless even with power of attorney rights, perhaps fighting to keep your loved ones at home to properly oversee their end of life care, contact Atlanta attorneys Brownstein & Nguyen.