In an effort to improve and maintain integrity in our healthcare system, Congress passed the Stark Law (also known as the Efforts in Patient Referrals Act) and Anti-Kickback Statute (AKS). These laws, modified over the years, and regulations enacted under them prohibit certain referral arrangements and payments, or kickbacks, for the referral of designated health services (DHS).
When receiving medical care, patients expect doctors to uphold the ideal of the hippocratic oath and to make treatment decisions based solely on a determination of the patient's best interests. Unfortunately, some doctors and healthcare providers violate the public trust by engaging in illegal referral or kickback schemes motivated by profit, not the well-being of patients. The Stark Law and Anti-Kickback Statute exist to prevent and punish such arrangements. These laws not only protect patients, but under the False Claims Act they allow the government (through qui tam lawsuits filed by private citizens) to recover taxpayer dollars unjustly received by healthcare providers who choose to abuse the system.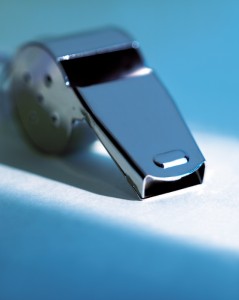 A recent example of a healthcare whistleblower lawsuit involving the very type of abuses the Stark Law and AKS were designed to address is the case of U.S. ex rel. Baklid-Kunz v. Halifax Hospital Medical Center and Halifax Staffing, Inc. In that case, filed in 2009 by Halifax Hospital's former director of physician services, the hospital was accused of improperly compensating medical oncologists and neurosurgeons for referring patients to the hospital for procedures. The government sought to recover over $34 million in fraudulent Medicare claims it claimed resulted from an unlawful compensation plan where doctors received bonuses based on the profits of the hospital's medical oncology department. With treble damages and substantial civil penalties under Stark Law, the total award against the hospital could have topped $1 billion. In March 2014, on the eve of trial, the hospital agreed to pay $85 million to settle the case. Daniel Levinson, Inspector General for the U.S. Department of Health and Human Services, commented that "[p]atients deserve to know that recommendations are based on sound medical practice, not illegal financial relationships between providers."
Whistleblowing in the healthcare field and claims based on self-referral arrangements are explored more in-depth in Healthcare Whistleblower Claims Based on Self-Referral Arrangements, an article co-authored by Atlanta attorneys Jay Brownstein and Kevin Little. In it, the authors describe the important role the Stark Law and Anti-Kickback Statute play in maintaining the integrity of our healthcare system.
If you have questions or concerns about healthcare whistleblowing, contact Brownstein & Nguyen today for a consultation.