You have an aging parent, spouse or loved one who you fear is no longer capable of making decisions about their own healthcare. You planned ahead and obtained a healthcare power of attorney so you can legally act on their behalf and make decisions for them when the time comes. But the last thing you anticipated is bad or negligent hospital care and fighting for your loved one's rights to receive the best possible care. Unfortunately, this is an all-too-common scenario.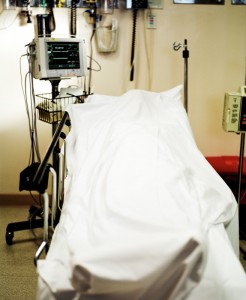 As we age, we eventually lose mobility, physical capabilities and mental capacity. Whether these things occur separately and gradually as part of the natural aging process, or suddenly and in tandem due to illness or trauma – at some point we all become incapacitated. When that happens, we are at our most vulnerable and particularly in need of significant care and assistance. Unfortunately, not all healthcare facilities and providers are equally suited to care for incapacitated elderly patients. This is especially true of hospitals and acute care facilities that are traditionally geared toward the short-term treatment of illnesses and injuries. Once patients reach a certain level of medical improvement, it is expected they will leave to the hospital to convalesce at home or be transferred to a skilled nursing, rehabilitation or other facility.
Elderly patients who are hospitalized – whether from a fall, heart issue or other health problem requiring urgent care – are at risk of a debilitating, and sometimes fatal, decline in physical and mental health. Such a decline can create a difficult set of circumstances not only for the patient and family, but for also the treating facility. Many hospitals are not structured or staffed to provide long-term care for incapacitated patients needing daily assistance to survive. This can include, for example, immobile patients who require frequent turning and repositioning to prevent skin breakdown and bedsores or decubitus.
When elder patients become physically or mentally compromised to the point of needing full-time assistance, hospitals are required to provide adequate care until the patient can be transferred to a more appropriate facility. Unfortunately, long-term care facilities such as nursing homes and rehabilitation centers are not required to accept patients, and many will reject patients depending on their condition. This problem can put aging patients and their families at odds with hospitals, which may be unable to provide adequate care necessary to ensure the patients' well-being and comfort.
So, what can you do if your parent, spouse or loved one is in this situation? Here are a few suggestions, based on personal and professional experience.
Seek open communication with doctors and staff. It is critically important to consult and openly communicate with your love one's treating physicians, nurses, and other staff members (for example, social workers or patient care coordinators) so you can have a complete understanding of the medical facts and their opinions concerning the patient's condition(s), prognosis and treatment. Ask as many questions as necessary to help gain such an understanding. Learn what care options are available for your loved one, given their condition. You might consider keeping a journal and taking detailed notes of your conversations with physicians and hospital staff, so later you can recall who said what.
Work to resolve disagreements concerning care amicably. If a dispute arises concerning the appropriate care or best course of action for your loved one, seek to resolve it by working cooperatively with physicians and hospital staff. If possible, try to craft a solution that is in the patient's best interests and also satisfies the goals of the family and hospital. Keep in mind that healthcare providers and agents (family members with power of attorney) must always act in the patient's best interests, and that professional providers' views of what that might be in a given case may differ from those of the patient's family.
Address concerns with hospital administration. If you are unable to adequately resolve concerns or reach consensus on the best course of action and care for your loved one, ask to meet with a hospital administrator. Before meeting, you may wish to first provide a detailed outline of the situation in a memo or letter (the journal you kept will come in handy). Work to keep the meeting constructive and focused on achieving a resolution that best meets the needs of the patient, family and hospital. Be sure that appropriate individuals attend the meeting, including a decision-maker for the hospital and possibly a treating physician or other medical professional knowledgeable about your loved one's condition.
Contact an elder care attorney. If all else fails, consider contacting a qualified elder care attorney for consultation and possible representation. Such an attorney can assess the legal circumstances and provide advice about the best course of action to achieve the family's goals. The attorney can also intercede on the family's behalf and seek a resolution with hospital officials, both by making written requests and also by communicating with the hospital or legal counsel. Finally, as a last resort, the attorney can petition a court for relief on an emergency basis, if warranted by the circumstances. Courts may use their extraordinary equitable powers to order certain actions be taken on behalf of the family and patient.
If you are experiencing poor or inadequate hospital care for an elderly patient, or find yourself in a dispute over proper care for an aging parent, spouse or loved one, contact the elder care and medical malpractice attorneys at Brownstein & Nguyen. Our Atlanta lawyers have years of experience fighting for the healthcare and legal rights of the elderly and their families.