To understand how to become a naturalized citizen, let's first take a look at what naturalization is. According to the United States Citizenship and Immigration Services (USCIS), "[n]aturalization is the process by which U.S. citizenship is granted to a foreign citizen or national after he or she fulfills the requirements established by Congress in the Immigration and Nationality Act (INA)."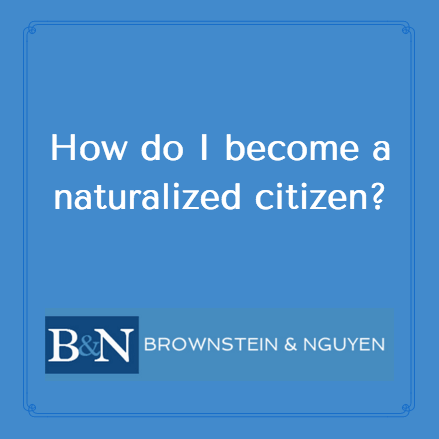 Enacted in 1952, the Immigration and Nationality Act has seen many changes over the years. However, the Act, together with voluminous regulations and administrative decisions, is still the primary source of current immigration law. All portions of the INA may be referenced on the USCIS website.
The INA outlines the requirements necessary for naturalization. There may be different criteria depending upon the situation, but generally the following citizenship requirements must be met for naturalization:
Possess a green card or be a lawful permanent resident

Be at least 18 years of age (as outlined on Form N-400)

Provide evidence of having been physically in the United States for 30 months

Prove that you have been in the state or USCIS district you reside in for at least 3 months
Naturalization or citizenship applications for adults (Form N-400) and for children (Form N-600) may be filled out without the assistance of an immigration attorney. However, with 21 pages to complete on Form N-400 and 9 pages to complete on Form N-600, it can be difficult to complete the applications properly. Additionally, while the USCIS offers Tips for Filing and Frequently Asked Questions, navigating the legal naturalization process can become a complicated and hazardous task for unsuspecting applications. All too often we have seen cases where a simple mistake on an application has significant adverse consequences for the applicant down the road. Hiring a qualified immigration attorney often makes the difference in being granted citizenship or being denied. Unfortunately, there are far too many cases of vulnerable immigrants being preyed upon by the incompetence, or worse, outright fraud of lawyers and non-lawyers claiming to have immigration experience. For this reason, one should never allow a travel agency, notary public, or other non-lawyer or business to submit an application to the USCIS on their behalf. Also, before hiring an immigration attorney it is a good idea to check their license, credentials and background to ensure they are in good standing and have no prior complaints or actions against them.
Contact the experienced and successful immigration law team at Brownstein & Nguyen for the confidence and support you need in pursuing U.S. citizenship and other immigration needs.