Guest Post by Aaron Marks of the Marks Law Group
Non Emergency Medical Transport Accident Atlanta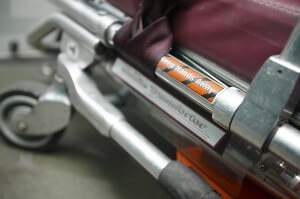 The elderly, sick and disabled often require
specialized transportation
, particularly non emergency medical transportation (NEMT), for attending doctors' appointments and for receiving non-emergency medical treatment. NEMT is provided in vehicles that are equipped for accommodating people in wheelchairs, on stretchers, and who need to travel with other medical equipment. Just as with other motor vehicles, accidents can occur in NEMT, and cause injuries to passengers who are already injured, sick or frail.
Duty of Care for Atlanta NEMT Providers
Across the country millions of NEMT trips are made each year. In Georgia alone in 2012, the state Department of Community Health oversaw 3.6 million NEMT trips and, as the state has an ageing population and outside of the Atlanta metropolitan area, little public transit, the need for NEMT will continue to grow. Georgia state law currently has few safety regulations in place for NEMT. Unfortunately, some companies hire drivers who are neither adequately trained nor supervised. Because of this, vulnerable patients may be injured as a result of negligence by those people whom we trust to help them receive their much needed medical attention. Atlanta NEMT services have a duty to transport their passengers safely to their destination. Furthermore, drivers and staff of the service provider must ensure that all passengers, including the patient and their family members, are safely buckled and in a regular seat before moving the vehicle.
What are the Different Types of NEMT Accidents?
When transporting the elderly and the sick, accidents may occur as a result of:
A collision with another vehicle or another object
Carelessness in moving or transferring the passenger, or in failing to secure the patient sufficiently
Loading and transferring the patient
Improperly used chair lifts
Leaving the patient in extreme or unsafe conditions
Loading or unloading of a wheelchair or stretcher
What Forms of Negligence Cause an Accident?
Staff errors and carelessness in assisting passengers can increase the risk of passenger injury. Even a seemingly small slip or fall can aggravate the injury or poor health condition of the passenger. Other factors such as driver inexperience and inadequate training in the use and operation of specialized machines for transporting the patient, and certain behaviors such as driving recklessly and failing to restrain passengers sufficiently before moving the vehicle can also lead to an accident.
NEMT Accidents are NOT Merely Auto Accidents
NEMT collision cases are complex and require a thorough understanding of the current laws. They cannot be litigated as just auto accidents, nor are they seen as a form of medical malpractice. They are, in fact, a combination of unusual elements, including the following, which set these types of cases apart:
Broker relationship (NEMT brokers contract with state and local governments)
State regulations and policies, and
The particular special needs of those being transported
With the rapid expansion of the NEMT industry and a challenging regulatory environment, we expect to see preventable catastrophic injuries, including wrongful deaths, involving non-emergency transport vehicles in Georgia.
For more information about NEMT issues, contact the
Marks Law Group
. If you are in need of trusted 
personal injury
,
medical malpractice
and
elder abuse lawyers
,
contact
Atlanta attorneys Brownstein & Nguyen
.