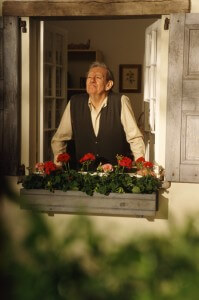 He sits and stares out the window, lost in his own thoughts. Even though he is here in this place, in this time, in front of that window, his thoughts have taken him somewhere else. He is not entirely aware that the world he sees exists only in his mind in another time and place, not the one he is physically living in.
This may describe a regular occurrence for your father, grandfather, aunt or uncle, or other family member suffering from Alzheimer's Disease or dementia. For many, memory loss, dementia, or Alzheimer's symptoms can be devastating and lead to the loss of independence. As individuals lose the ability to place themselves in the proper time and place, they may struggle to maintain daily tasks such as preparing meals, managing medication, household chores, and self care. When this happens, many families find themselves facing the difficult decision of placing a loved one in a care facility.
There is more to consider for the overall care and well-being of a loved one suffering from Alzheimer's or dementia when choosing a care facility. You will still want to research, visit facilities and ask questions, but you will want to do all of this with memory care in mind. Many facilities offer a special wing or floor devoted to memory care. This portion of the facility is specifically designed and staffed with the needs of patients experiencing memory loss, dementia, and Alzheimer's. In searching for a facility, you will want to ask if the facility offers a Memory Care Unit or a Special Care Unit (SCU).
According to gerontologist Sara Shelton of Seattle Care Solutions, Special Care Units offer a higher ratio of staff to residents than other types of care. Staff for Special Care Units typically have specialized training. In addition, these facilities may offer activity-based patient programs designed specifically for memory care patients. Many units also include secured exits for the safety of patients who may become disoriented and attempt to leave, as well as visual cues that make it easier for patients to navigate their surroundings.
The Alzheimer's Association suggests that when researching and visiting Memory Care or Special Care Unit options, you should ask for a special care unit disclosure form. This form is required for state licensing purposes in order for a facility's unit to qualify as a Memory Care Unit or Special Care Unit. Requirements vary from state to state, and the disclosure form will detail what specific plans and procedures are in place for the facility to qualify as a Special Care or Memory Care Unit.
At Brownstein & Nguyen, we have years of experience dealing with the difficult legal situations and medical complications that arise in cases of nursing home neglect and elder abuse, including those involving patients suffering from memory loss or dementia. Call or contact us today so that we can help you.