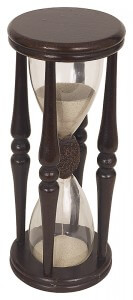 Imagine that a high school senior has put in all the time and effort to make it to graduation. Years of hard work have put the star student on track for graduation with honors and a full scholarship to the college of his choice. Everything progresses toward the exciting conclusion of this chapter in this young man's life…until the day he is called into the principal's office and told he could not graduate. He is at a loss for words and understanding. How could this happen? The principal explains that he cannot graduate because the final assignment for his senior English language arts class was not graded and reported. But it is not that he failed to turn in the assignment on time or that his work was not good; in fact, he turned it in early and it was outstanding. The problem is that his teacher simply did not get through the stack of essays she had to grade in time to meet the graduation deadline. As a result, the senior's work is deemed incomplete and he is forced to start the year all over.
Fortunately, the above is just an illustrative scenario and not a real life example. It is cut and dried as to where the fault lies – the student suffered as a result of the actions of others. It seems inherently unfair and unjust. But justice and fairness are notions frequently involved in the debate over the interpretation of laws, where the decisions of the few affect the many.
Similar to the scenario above, there is a real-life situation unfolding in immigration law that potentially could affect thousands of young immigrants with their whole lives ahead of them. They have submitted the proper paperwork and waited in line for their "graduation" or in this case, the granting of their very own visa. They, too, are in a race against the clock. But instead of counting down the days until graduation, the clock ticks until until age 21 when they will "age out" of the visa line they are waiting in.
The U.S. Supreme Court recently handed down its decision in Scialabba v. Cuellar de Osorio, a case involving minor children included as dependent beneficiaries in their parent's visa petitions for permanent resident status but who turned 21 before the petitions could be decided by the government. The law at issue, the Child Status Protection Act, was passed by Congress in 2002 to protect immigrant children from the harsh consequences of "aging out" (or no longer being considered a child) and thus being denied immigrant benefits when their parents finally obtain visas. Siding with the government, the Supreme Court's interpretation of a specific provision of the CSPA means that minor children of immigrant petitioners who age out before their parents can obtain visas will no longer receive the "priority date" given their parents, but instead must go to the back of the line and wait all over again for visas to become available. In other words, immigrant children will get no credit for the time (often many years) their parents spent waiting for visa petitions to be processed.
The above case highlights just one example of how complex, challenging and daunting navigating immigration law can be. If you or someone you know is facing a potentially life-changing immigration issue or problem, we're here to help. With over twenty years of experience in immigration law in the Atlanta, Georgia area, the attorneys at Brownstein Nguyen are more than equipped to guide you through the legal process – whether you are seeking a visa, appealing a denial, adjusting status, or defending a removal or deportation case brought by the government. Please contact us for an immigration law consultation today.
Also, don't forget to follow Brownstein and Nguyen on Facebook, Twitter, and Google + for other news and information regarding immigration.